HOW TO MAKE SKINNY SLOW COOKER KUNG PAO CHICKEN
|
This delicious Skinny Slow Cooker Kung Pao Chicken is coated in a sweet and spicy sauce with tender vegetables and crunchy cashews. Skip the takeout, this is so much healthier and better!
Hey guys! It's Kelly here from Life Made Sweeter! I'm back this month sharing this Skinny Slow Cooker Kung Pao Chicken!
I love making my favorite Asian take out dishes at home because I can lighten them up without sacrificing on the flavor.
This recipe is a lot healthier than the Kung Pao Chicken you would typically get when ordering out. According to My Fitness Pal, it's about 434 calories per serving. Plus, it's really easy to whip up and has all the same amazing flavors we love.
Sweet, savory with just enough of a fiery kick that you can totally customize according to your taste.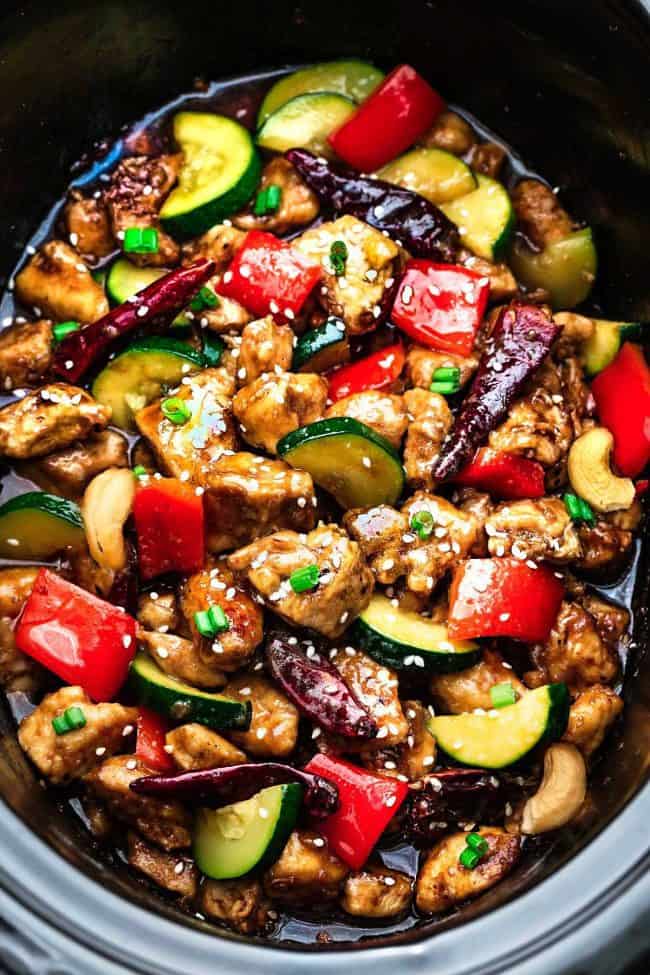 There is no deep frying required. Just a little oil to brown the chicken. Plus it has a generous serving of tender crisp veggies. I used red peppers and zucchini but you can easily swap in your favorites.
To make this Kung Pao Chicken, start by coating the chicken in cornstarch and browning it before adding it into the slow cooker. It's an extra step but makes a HUGE difference!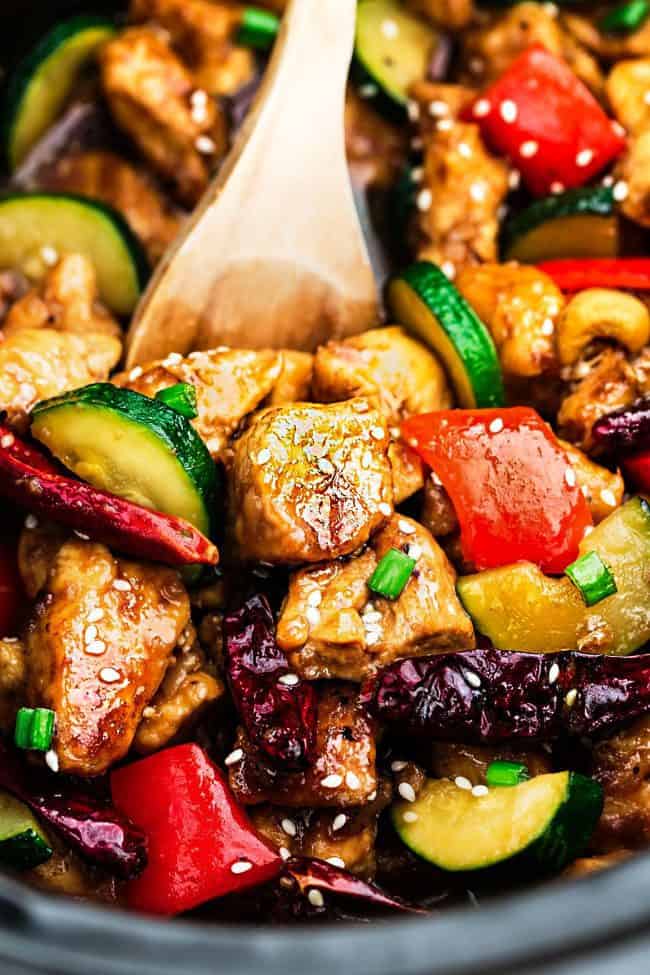 Then combine the sauce ingredients together and toss with the chicken. Cook on low for a few hours then add in the veggies right near the end for the perfect tender & crisp texture.
You can serve this over your favorite quinoa, rice or even zoodles for a lower carb option. Either way you choose, it's so much easier and healthier than takeout!
HOW TO MAKE SKINNY SLOW COOKER KUNG PAO CHICKEN
INGREDIENTS
⅓ cup cornstarch (or arrowroot powder)
¼ tsp salt
¼ tsp black pepper
1 lb boneless, skinless chicken breasts (about 2 pieces), cut into bite-sized chunks
1 tablespoon avocado oil or olive oil
**4 – 6 dried red chili peppers (to taste) found in Asian supermarkets or the International section of a large chain grocery store – see NOTE
⅔ cup roasted cashews (or roasted peanuts)
1 red bell pepper, chopped into bite-sized pieces
1 medium zucchini, chopped into halves
Sauce (Feel free to double the sauce if you like more sauce)
½ cup low-sodium soy sauce
½ cup water
3 Tablespoons honey
2 Tablespoons hoisin sauce
3 garlic cloves, minced
1 tsp grated fresh ginger
¼ – ½ teaspoon dried red pepper chili flakes
Cornstarch slurry
2 Tablespoons cornstarch or arrowroot powder
2-3 Tablespoons water (plus more as needed to thin out consistency of sauce)
INSTRUCTIONS
In a large zip-top bag, toss in chicken, cornstarch, salt and black pepper. Shake until well-coated.
Heat a large skillet over medium-high heat. Cook chicken about 2-3 minutes on each side, until lightly browned. Transfer chicken into slow cooker. (SEE NOTE FOR STOVETOP DIRECTIONS)
In a medium bowl, whisk together the soy sauce, water, honey, hoisin sauce, garlic, ginger and red pepper chili flakes and pour over chicken.
Cover and cook on LOW for 2.5 – 4 hours or HIGH for 1.5 – 3 hours. (SEE NOTE)
About 30 minutes before serving, whisk together the cornstarch and water in a small bowl. Stir into the slow cooker. Add the dried red chili peppers, red bell peppers, zucchini and cashews.
Cover and cook on HIGH for another 20-30 minutes or until the vegetables are tender and the sauce has thickened up. (Add more water to thin out sauce to your preferred consistency).
Sprinkle with sesame seeds, green onions and serve over rice, quinoa or zoodles, if desired.
NOTES
**If you can't find dried red chili peppers, leave out and add an additional ½ – 1 teaspoon red pepper chili flakes
**If your slow cooker runs hot, be sure to check on chicken earlier as it may cook faster than the suggested cooking times.
**FOR STOVETOP DIRECTIONS: Brown the chicken until cooked through (7-8 minutes). Then add vegetables and saute for about 3 minutes – or until tender. Add the sauce to the pan, turn to high heat and cook until the sauce bubbles and thickens up – about 1-2 minutes. Taste and adjust seasonings. Once everything is coated and heated through, serve hot with favorite sides.